Accelerated BSN (ABSN)

Major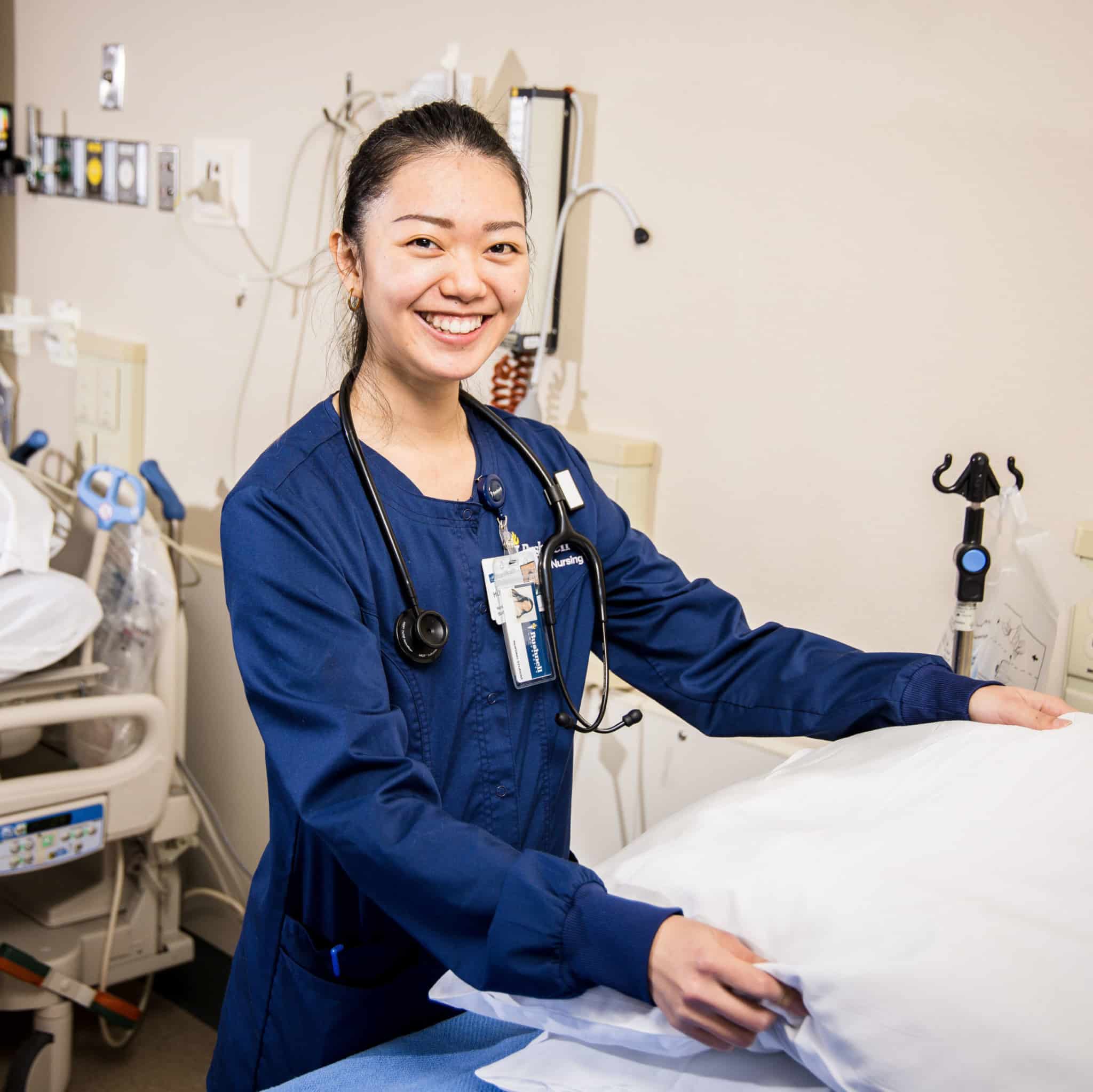 If you hold a bachelor's degree and are looking to transition to nursing, our Accelerated Bachelor of Science in Nursing (ABSN) second degree program offers a fast-track to your new career in just 12 months. In this rigorous face-to-face program, students develop nursing knowledge and skills under the guidance of experienced faculty and are prepared to take the NCLEX-RN licensure examination.
Students in this program attend classes full-time, and will learn to be a professional ethical nurse leader, able to provide safe, quality, equitable, and compassionate care to others. 
The Accelerated BSN program prepares ethical nurses to lead the way toward evidence-based quality improvement within a variety of healthcare and educational communities. The School of Nursing embraces Bushnell's mission to foster wisdom, faith, and service through excellent academic programs grounded in the arts and sciences that demonstrate compassion and respect toward all people served.
Program Objectives
Graduates of this program will:
Understand, integrate, and apply established and evolving nursing knowledge and ways of knowing as well as knowledge from other disciplines, the arts, sciences, and humanities to support clinical judgment and inform nursing practice
Provide holistic, just, respectful, compassionate, coordinated, evidence-based and developmentally appropriate person-centered care to individuals across the lifespan
Engage in collaborative activities aimed at improving the health status and outcomes of populations and communities across a variety of settings at the local, regional, national, or global levels
Critique, apply, and implement nursing knowledge and best evidence generated from research in a way that considers patient preferences and values, the nurse's experience, and improves health, enhances clinical practice, or influences policy
Employ established and emerging principles of safety and improvement science into nursing practice and care delivery in order to minimize risk to recipients and care providers as well as improve system effectiveness and individual performance
Engage in intentional collaboration and communication across professions and with care team members, patients, families, and communities in order to optimize care, enhance the health care experience, and improve health outcomes
Understand systems-based practice and develop knowledge, skills, and abilities to function as change agents and leaders within complex systems of health care
Understand and utilize information and communication technologies and informatics tools to guide and inform nursing practice and care, enhance communication and connections, and improve health
Develop a professional nursing identity that embraces the values of integrity, altruism, inclusivity, compassion, courage, humility, advocacy, and caring
Engage in activities that promote personal health and growth, expansion of professional knowledge, skills, and abilities, and development as an ethical nurse leader
Beacon Points of Pride
Ranked#2 Best Nursing School  in Oregon, According to Nursing Degree Search
In the first two cohorts, the pass rate for NCLEX (1st attempt) was 100%.
12-month curriculum
Small cohort size
Clinical experience opportunities in a wide array of settings
Application Dates
| Cohort Start | Applications Open | Application Deadline |
| --- | --- | --- |
| Fall (August) | February 1 | May 17 |
| Spring (January) | June 1 | September 17 |
Clinical Practice
Students will have the opportunity to participate in learning activities in a variety of settings. These may be in acute care hospitals, clinics, schools, specialty hospitals, and community-based care settings.
Assigned clinical rotations may be any day of the week and any hour of the day, including traditional day, evening, and night shifts, and may be at sites up to 75 miles from the Bushnell University campus. Students are responsible for their own transportation.
Visit Campus
If you're interested in seeing campus and our nursing program facilities, please contact our nursing admissions counselor, Carrie Gillies at cgillies@bushnell.edu.
Student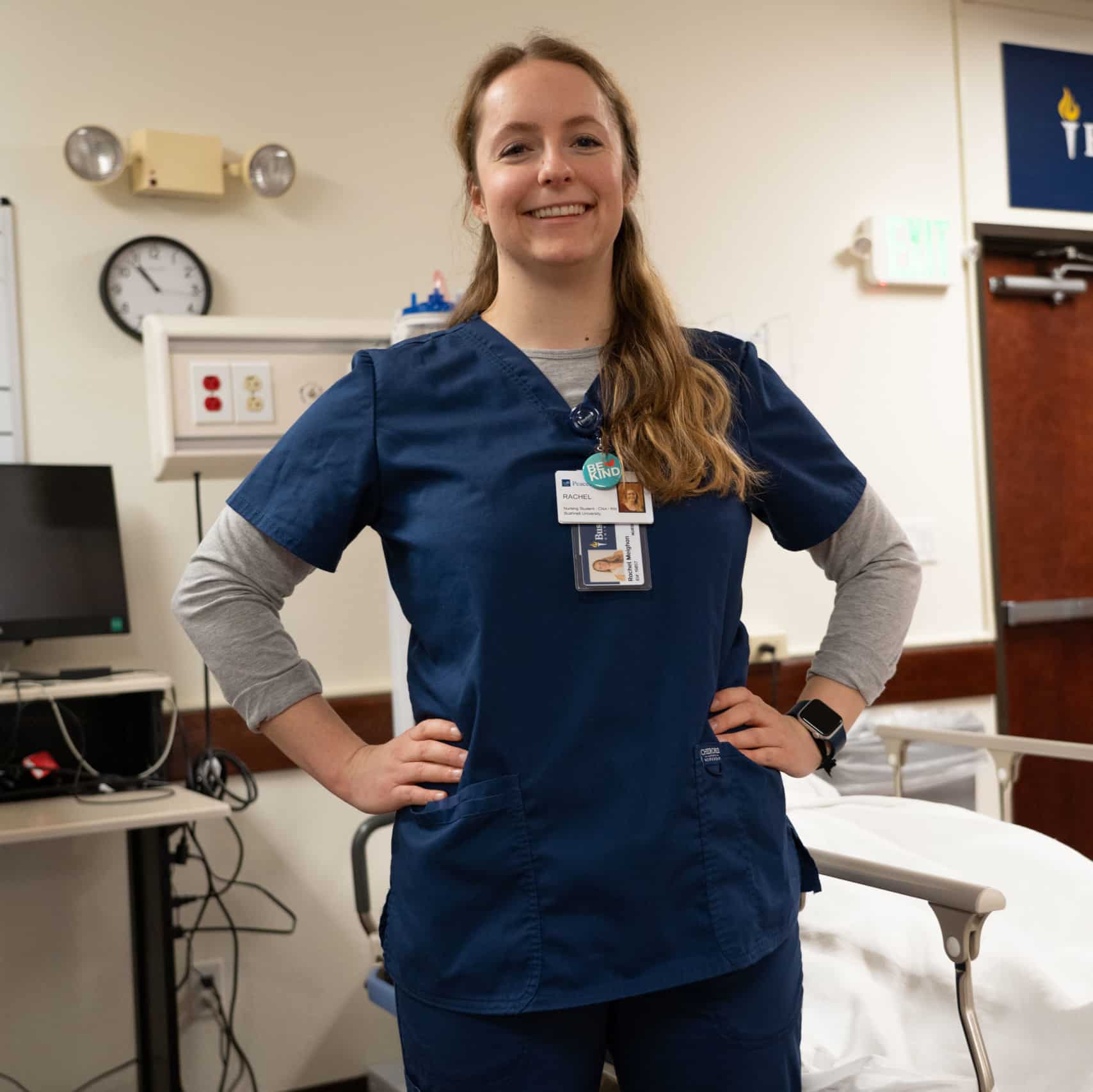 "I was looking for an ABSN program and this one is close to home. I already have a bachelor's degree and this program spring-boarded from the content of my previous degree. I want upward mobility in my nursing career, I am good with the academic rigor, and I wanted to maximize my time. I appreciated the connection with faculty and their availability."
Rachel Meighan, Class of 2023
Student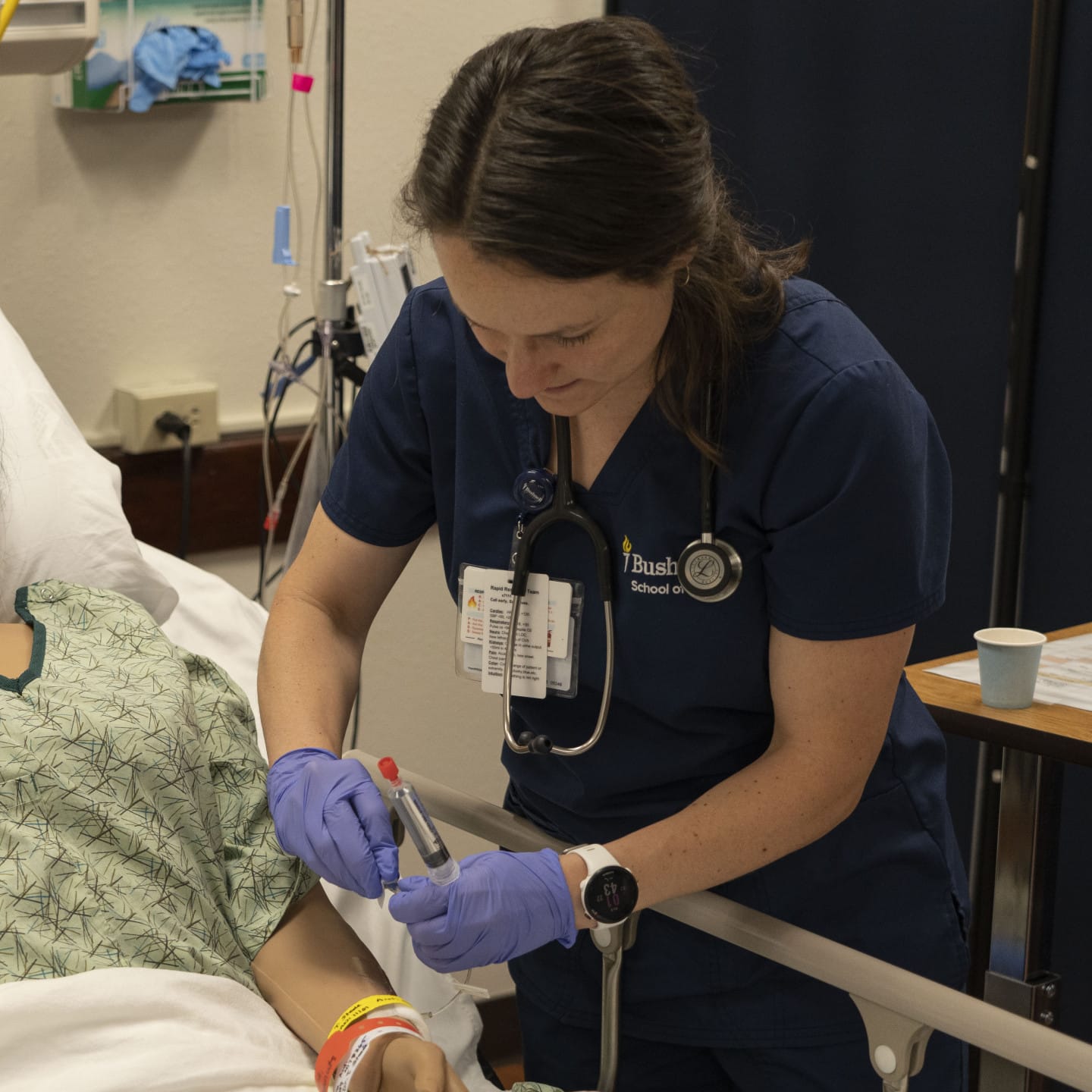 "The accelerated aspect was not the most important to me, it was getting a bachelor's degree. I really liked and appreciated the huge variety of clinical experiences. I also appreciated the constant opportunity to reflect on what I was learning."
Brittany Petersen '22
Student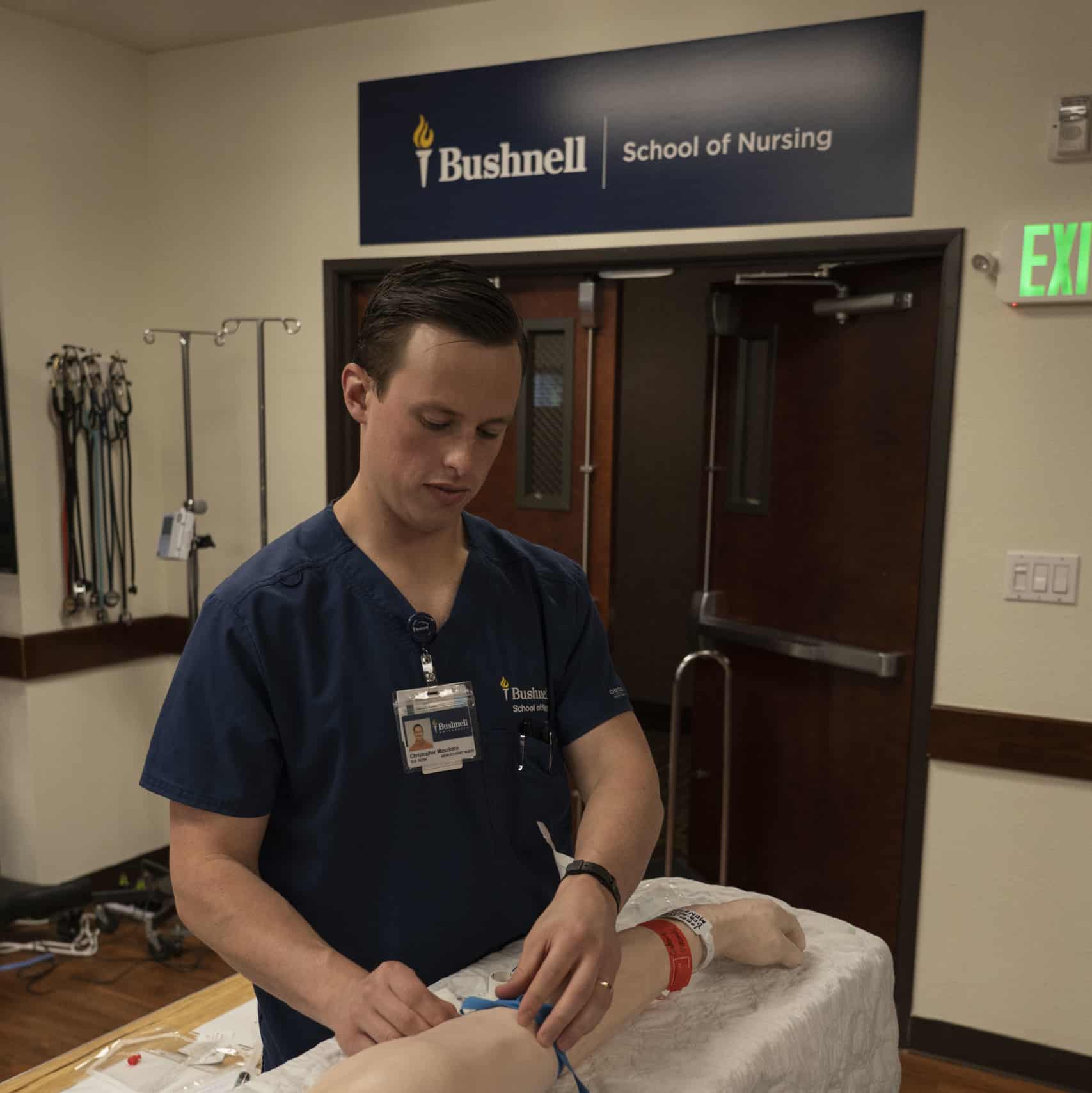 "I'm so grateful to be part of the ABSN program at Bushnell. While it's been incredibly challenging, this experience has helped me grow in my ability to care for others and make an impact on the health and well-being of my community. I'm confident that the nurses coming from my cohort will deeply impact the lives of those they serve."
Chris Masciotra '22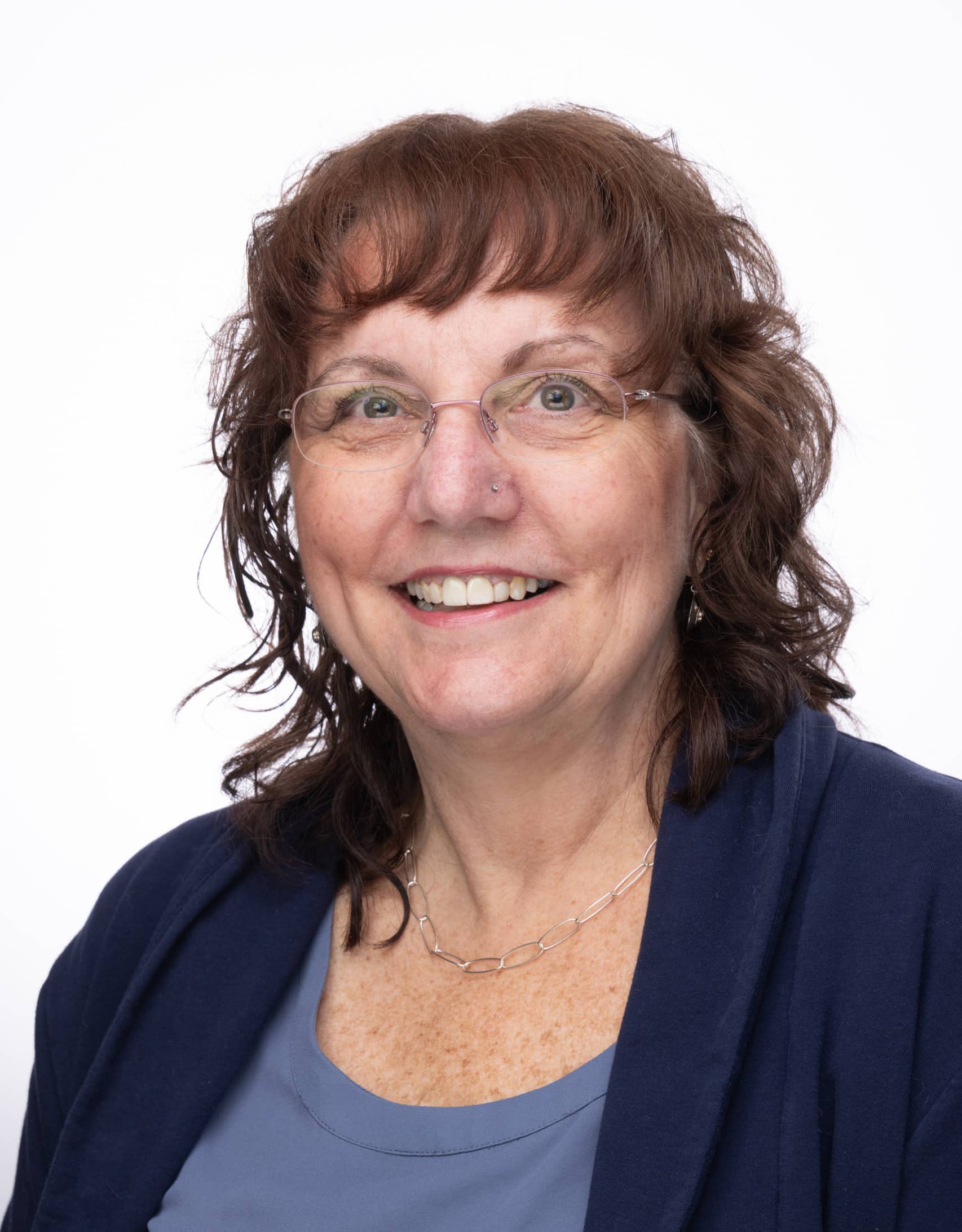 Meet the Faculty
Stacy January, Ph.D., RN
Program Faculty
"Students choose Bushnell University's ABSN program because of the smaller cohort size, huge variety of clinical practice experiences, and professional mobility a bachelor's degree provides.
Faculty are dedicated to coming alongside students to help them succeed and flourish in Wisdom gained. Come learn with us!"