Note: We are not currently enrolling new students for the RN to MSN track. Please see our RN to BSN page or contact online@bushnell.edu for more information.  
Don't lose your momentum. Reach your career goals faster with Bushnell University's online RN to MSN track, which allows RNs to complete a bachelor's and master's degree in nursing in less time and at a lower cost than earning each degree separately.
The online RN to MSN track is perfect for RNs who know they want to complete their master's degree. Students are admitted to the MSN program and complete nine bachelor-level courses (27 credits), then are seamlessly enrolled into master-level courses. Upon completion of all bachelor's- and master's-level coursework, you will receive both a bachelor's and master's degree in nursing.
Find more information on the MSN program and available concentrations.
Program Format
This program can be completed entirely online, allowing busy working adults to maintain a healthy work, life, and school balance. This program is designed to allow you to study anytime from anywhere, providing you the flexibility to arrange your studies around your own schedule. With multiple starts a year, you can start your program when it's convenient for you!
Already Have a Bachelor's Degree?
If you currently have your RN license and have already completed your bachelor's degree (outside of nursing), then Bushnell University's RN to MSN bridge may be the perfect fit for you! The RN to MSN bridge is for RNs who have a bachelor's degree in a field other than nursing and wish to pursue a Master of Science in Nursing (MSN) degree. NOTE: A Bachelor of Science in Nursing is not awarded upon completion of the bridge program.
The Bushnell University Difference
30+ years' experience educating working adults
Flexible, 100% online accredited program
A supportive academic environment that puts students first
Program prepares students for graduate education
Project-based practice experiences completed in your local community

Returning to our Roots
Between 1908 and 1929, Bushnell University constructed and operated the Pacific Christian Hospital—known today as PeaceHealth Sacred Heart Medical Center.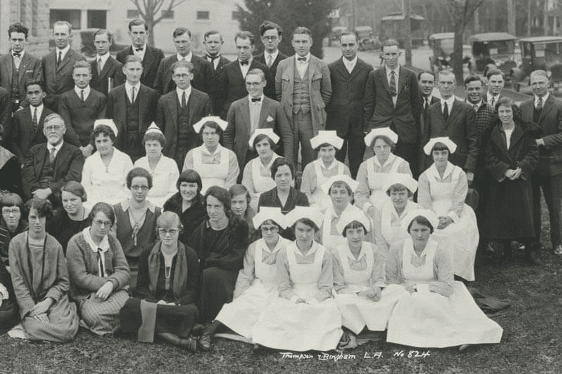 Transfer Credits
Transfer up to 94 credits at no cost
Free, no-obligation transcript evaluation
No transfer credit expiration*
Free and low-cost test out options available for select general education courses
Most nurses have completed the majority of the general education requirements as part of their AAS Nursing program, but it varies case-by-case. To identify any gaps, all applicants receive a free transcript evaluation. If general education courses are needed, students can take them online through Bushnell University (while enrolled in the BSN program) or through a community college. In some cases, test-out options are also available. Enrollment advisors assist students in determining the best options for their situation.
Financial Aid Information
At Bushnell University, we know financial aid inside and out and can help you apply for and receive the best financial aid package available.
Find more information regarding financial aid.
Veteran Benefit Information
Bushnell University is approved by the Oregon Department of Education and the Department of Veteran Affairs for educating students who are eligible for VA educational benefits. You can begin receiving your educational benefits in just a few simple steps!
Find more information regarding veteran benefits.
Accreditation
Bushnell University is regionally accredited by the Northwest Commission on Colleges and Universities (NWCCU).
The baccalaureate degree/master's degree program in nursing at Bushnell University is accredited by the Commission on Collegiate Nursing Education (www.ccneaccreditation.org).
Program Objectives
Graduate of the BSN program will be able to*:
Demonstrate critical thinking and ethical discernment in the provision of safe, quality, client-centered nursing care to individuals, families, and communities across the continuum of health care environments.
Utilize leadership principles and knowledge to deliver, manage, and evaluate health care, advance safe, quality, evidence-based nursing practice, and improve health outcomes.
Demonstrate an ethical and socially just view of nursing as a profession and ministry.
Integrate knowledge from the liberal arts, humanities, and sciences including nursing science to promote and enhance human flourishing for patients, families, communities, and self.
Synthesize nursing science and knowledge from other disciplines to make sound, evidence-based nursing judgments.
Develop a professional identify as a nurse through actions reflecting integrity, standards of ethical, moral, and legal conduct, advocacy, and caring for all patients, families, and communities.
Demonstrate a spirit of inquiry by acting as an evolving scholar who contributes to the science of nursing through identification of practice issues in need of study, appraisal, and integration of evidence, evaluation of outcomes, and sharing of evidence with the interprofessional team.
Demonstrate ability to engage in appropriate, effective communication and collaboration with clients, families, and inter-professionally to provide safe, quality, patient-centered care.
Utilize knowledge of the political process and healthcare policies, including financial and regulatory, to influence safety and quality in healthcare systems and nursing practice.
Incorporate professional nursing standards, behaviors, and values into nursing care and practice.
Bachelor of Science in Nursing program objectives are based on outcomes/competencies expected of graduates from a baccalaureate nursing program as established by the National League of Nursing (NLN, 2010) and the American Association of Colleges of Nursing (AACN, 2008) Essentials for Baccalaureate Educations for Professional Nursing Practice.
Find more information on the Master of Science in Nursing (MSN) program objectives.
Courses Within the BSN Program
Foundations for Lifelong Learning in Nursing
This introductory nursing course helps students navigate Bushnell University's online learning, communication, and assessment systems and explore academic support services. Nursing as a ministry, Jesus as healer, and behaviors implying the presence of professional values are explored.
Evidence-Based Practice and Health Care Policy in Nursing
This course examines the concept of evidence-based practice in nursing with an emphasis on substantiating nursing judgements in practice with evidence. The way health care polices influence nursing practice and health care systems are explored.
Leadership in Nursing Practice
Examine the concepts of servant leadership, nursing as a ministry, and professional commitment to human flourishing. Throughout this course the student will study leadership models, the competencies that are critical to nursing as a profession, and develop an understanding of organizational success in change management.
Role of the Professional Nurse
This course provides an introduction to the identity, attributes, roles, values, and behaviors of the professional nurse. Nursing history and contemporary nursing issues impacting practice, rules and regulation defining and authorizing professional nursing practice, standards of conduct, and the concept of lifelong learning will be explored.
Ethics in Nursing
In this course students will examine the practice of nursing as a ministry within the context of ethical obligations, including patient rights versus the duty to deliver care. Students will develop in-depth knowledge of and reflect on core ethical issues of moral authority, patient autonomy, justice, and the sanctity of human life in light of a variety of ethical situations which traverse the lifespan and are encountered in nursing practice.
Population Health in Nursing
This course examines factors influencing the health of populations and communities with a focus on the role of the nurse to assess, implement, and evaluate culturally appropriate, community-based efforts aimed at promoting and maintaining health.
Research in Nursing
This course assists students in developing a spirit of inquiry and to act as an evolving scholar. How evidence is developed, the basic elements of the research process including quantitative and qualitative processes, and the ethical conduct of research will be studied. Methods for locating, retrieving, communicating, and critiquing health and other relevant research literature and sources of evidence will be explored.
The Aging Population
The study of care and management of the aging population focusing on geriatric care including approaches to chronic illness, rehabilitative care and palliative care. A focus will be on communication and collaboration with patients, families, health care team members, and care options, including home health care.
Nursing Capstone
Theories, concepts, and knowledge learned in prior BSN and other coursework are integrated into a Project Based Experiential Learning Experience (PBELE) carried out within the context of an organization or community agency. The PBELE: includes direct care and/or in-direct care experiences; is based on an identified health problem or issue; involves interaction with other providers and/or individuals, families, groups, communities, or populations and; allows for transition of student competencies to the baccalaureate level of proficiency.
Courses Within the MSN Program
Population Health
This course focuses on clinical prevention and health activities aimed at improving the health status of diverse populations. Students will explore the role of nursing leadership within health systems to design and deliver population and evidence-based care and services that promote health, reduce risk of chronic illness, and prevent disease. Issues of equitability, cultural and ethnic identity, socio-economic, emotional, and spiritual needs, and values of patients and the population will be examined.
Population Health Clinical
This supervised 45-clock-hour clinical experience provides students opportunity to integrate clinical prevention and population health concepts into creation, implementation, or evaluation of a health education or promotion, reduction of chronic illness risk,  or disease prevention project within the context of a health system, community organization, or clinical setting.
Health Care Policy
This course focuses on development of knowledge and skills nurses need to promote health and help shape the health delivery system utilizing the health policy process and political advocacy. Students will examine agenda setting, process, people, use of research, finances, implementation, evaluation, and the role of nursing and nurse leaders in relation to health policy. Students will identify several ways to become politically active in order to effect system change.
Communication in Nursing
This course focuses on deeper development of interpersonal, interprofessional, and organizational communication skills necessary to promote effective working relationships as well as provide coordinated quality care within health care systems and across varied settings.  Concepts of effective communication, organizational process that enhance communication, power structures and group dynamics, conflict and conflict resolution, teams, teamwork, and team leadership will be examined.
Statistics for Nursing
This course assists nurse leaders to understand and apply fundamental concepts of statistical reasoning to evidence-based practice in order to improve health care practice and patient outcomes. Students will examine basic statistical concepts needed to judge the quality of research evidence used in practice and gain proficiency in the use of statistical software packages.
Quality Improvement and Safety
This course focuses on developing advanced understanding and knowledge of continuous quality improvement and thus safety within health care organizations. Students will examine various quality improvement principles, methods, tools, and performance measures effective nurse leaders employ to create cultures of safety and lead the way for quality improvement.
Translating Scholarship into Practice
This course builds upon prior knowledge of statistics and evidence-based practice to develop skills of analyzing, interpreting, and translating research findings into practice.  Students will explore how to: apply research outcomes within various practice settings to resolve practice issues; lead the health care team to implement evidence-based practice; use translational research skills to lead continuous improvement processes; and be a role model for lifelong learning.
Choose a required concentration:
Nurse Leadership in Health Systems
Nursing Education
Find more information on available concentrations and required coursework.
Admitted Students
Admitted students will be required to complete a criminal background check and urine drug screen that meet Oregon Health Authority (OHA) requirements.  OHA also requires all health professions students to comply with certain screening and vaccination requirements.  Admitted RN to MSN students must submit proof of completion of the requirements listed below:
American Heart Association basic life support certification
Immunizations (seasonal flu, hepatitis B and titer, varicella, measles, mumps, rubella, tetanus, diphtheria, pertussis, and full vaccination against COVID-19)
2-step PPD test OR QuantiFERON-TB Gold for TB screening
Students who are unable to validate the above requirements or who have a criminal record might not be allowed into a healthcare facility for their practice experiences. It is not possible to meet the RN to MSN program objectives without having practice experience. Therefore, under certain circumstances, students who cannot meet the above requirements or who have a criminal or abuse history may be required to exit the program. Students who have been arrested or convicted of a crime or have other questions about these requirements are encouraged contact Sheryl Caddy, Clinical Placement Coordinator, at scaddy@bushnell.edu as needed.
Sigma Nursing Honor Society
Sigma Theta Tau International Honor Society of Nursing, today known as Sigma, was founded in 1922  by six nurses at the Indiana University Training School for Nurses, which is now the Indiana University School of Nursing, in Indianapolis, Indiana, USA. The founders chose the name from the Greek words storgé, thárros, and timé, meaning love, courage, and honor.
Alpha Alpha Tau, Bushnell University School of Nursing's chapter of Sigma invites nursing students demonstrating academic excellence in their nursing courses and Registered Nurses exhibiting exceptional achievements in nursing join Sigma.
State Authorization
Bushnell University, like other institutions of higher education, must obtain authorization from individual states and territories to enroll students residing outside of Oregon into the MSN program. Most states are authorized or exempt from authorization because the MSN program is 100% online. At this time, only students from authorized states can be enrolled into the MSN program.
If you have any questions, please contact the Office of Admissions at 541-684-7343 or online@bushnell.edu.