Returning to our Roots
Between 1908 and 1929 Bushnell University constructed and operated the Pacific Christian Hospital, known today as PeaceHealth Sacred Heart Medical Center.
Nursing's Mission Statement
The mission of the Nursing program, as an integral part of Bushnell University, is to respond to the higher educational and health care needs of our culturally diverse communities.  We prepare ethical nurse leaders and educators to lead the way toward continuous improvement in evidence-based healthcare within their complex workplace as well as local and global communities.  We embrace Bushnell's mission to foster wisdom, faith, and service through excellent academic programs grounded in the arts and sciences that demonstrate compassion and respect toward all people served.
Welcome to the School of Nursing
What makes Bushnell University's School of Nursing different than the rest?  Our School has 30+ years' experience educating working adults in a flexible and supportive academic environment that puts students first.  All nursing courses, delivered 100% online, are designed to build upon current knowledge and prepare ethical nurse leaders and educators to lead the way for delivery of evidence-based, quality health care and practice within their workplace and communities.  Project-based practice experiences provides opportunity for students to devise and implement creative solutions aimed at  improving health, health outcomes, safety, and quality of nursing practice and care within their workplace and communities.
Nursing faculty are the heart of Bushnell's School of Nursing!  Comprised of experienced educators possessing expertise in a variety of clinical practice and other specialty areas, nursing faculty are dedicated to academic excellence, assisting students achieve their professional and personal goals, and carrying out the mission of the University and School of Nursing. We invite and welcome you to be a part of what God is doing here at Bushnell University as you respond to His call in your life!
Bushnell University's RN to BSN and MSN programs are accredited by the Commission on Collegiate Nursing Education.
Meet The Dean: Linda Veltri, PhD, RN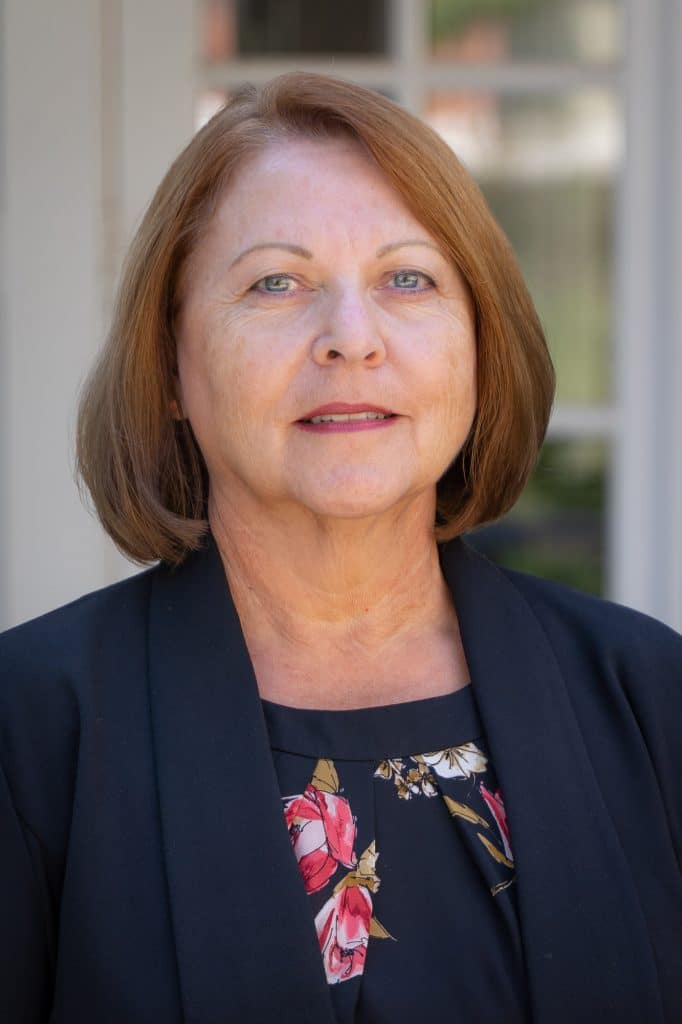 Dr. Linda Veltri, Associate Dean of the School of Nursing, is responsible for ensuring the quality and excellence of the University's undergraduate and graduate nursing programs.  She provides leadership for the development, implementation, and evaluation of all academic programs for the School of Nursing and oversees the allocation of fiscal and human resources to ensure quality learning outcomes.  She has over 20 years of nursing experience in various roles ranging from staff nurse and manager to academia.  Dr. Veltri values team work, continuous quality improvement, and collaborative partnerships.  She strives to capitalize on her strengths of building and implementing new nursing programs and fostering relationships within the nursing community.
Dr. Veltri's area of clinical expertise is maternal-newborn nursing and her research experience is related to clinical learning and simulation in nursing.  While teaching at Oregon Health & Science University, School of Nursing she created and implemented two maternal-newborn simulations that contributed to student learning of normal and complicated nursing care of postpartum women and newborns. Dr. Veltri has published in the area of clinical simulation and learning, family nursing with childbearing families, and curriculum development.  In addition, she serves as the Chair of Bushnell's Curriculum Review Panel and Lane Community College's Nursing Advisory Board. She is a member of Sigma, an International Nursing Honor Society,  Nurses Christian Fellowship, and the American Organization for Nursing Leadership.
Dr. Veltri received a Doctorate of Philosophy from The University of Wisconsin, Milwaukee in 2010, a Master's of Science from Gonzaga University in 2002, and a Bachelor of Science in Nursing from Whitworth College in 1996.  She considers it a great honor to serve as Associate Dean of Nursing and looks forward to partnering with students to advance their education and pursue God's calling in their lives.
Current School News
Student Testimonial(s)
Academic Programs
Undergraduate Programs
Graduate Programs
Master of Science in Nursing (MSN)
Nurse Leadership in Health Systems
Nursing Education
Post Master's Nursing Education Certificate
Nursing Faculty
Associate Dean of Nursing/Associate Professor: Linda Veltri, PhD, RN
Assistant Professor of Nursing:  Jan Welch, MSN, RN
Adjunct Faculty:  Ginger Banks, MBA, BSN, RN
Adjunct Faculty:  Mick Bollenbaugh, PhD
Adjunct Faculty:  Linda Brown, MSN, RN
Adjunct Faculty: Brian Churchill, PhD, RN, CPHIMS
Adjunct Faculty:  Robin Ehrhardt, MSN, RN, EMT Intermediate
Adjunct Faculty:  Randall Gross, M.S.M
Adjunct Faculty:  Brian Nichols, MS, RN
Adjunct Faculty:  Kelsay Rychener, MAC
Adjunct Faculty:  Eileen Thomas, PhD, RN